Adobe Acrobat/Reader에 문제가 있습니다. 실행 중이라면 종료하고 다시 시도하십시오.(103:103)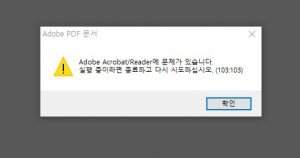 This error can be fixed by disabling the Adobe Reader's "Enable Protected Mode at startup" setting.
1.Close QuickBooks.
2.Launch Adobe Reader.
3.Click on the Edit menu, select Preferences.
4.In the Categories list, select Security (Enhanced).
5.Uncheck Enable Protected Mode at Startup.
6.Click OK.
7. Close Adobe Reader.
참조 : https://quickbooks.intuit.com/learn-support/en-ca/troubleshooting/how-to-fix-the-adobe-reader-error-103-103-when-opening-previous/00/261700