Code Signing Certificates
Indicate trust and authentication by digitally signing your software, code, applications and boost the confidence of users that the software they are downloading is coming from an organization or a developer who has been verified by a trusted third-party Certificate Authority (CA).
소프트웨어, 코드, 응용 프로그램에 디지털 서명을하여 신뢰와 인증을 표시하고 다운로드하는 소프트웨어가 신뢰할 수있는 타사 인증 기관 (CA)에 의해 검증 된 조직이나 개발자로부터 제공되고 있다는 사용자의 신뢰를 높입니다.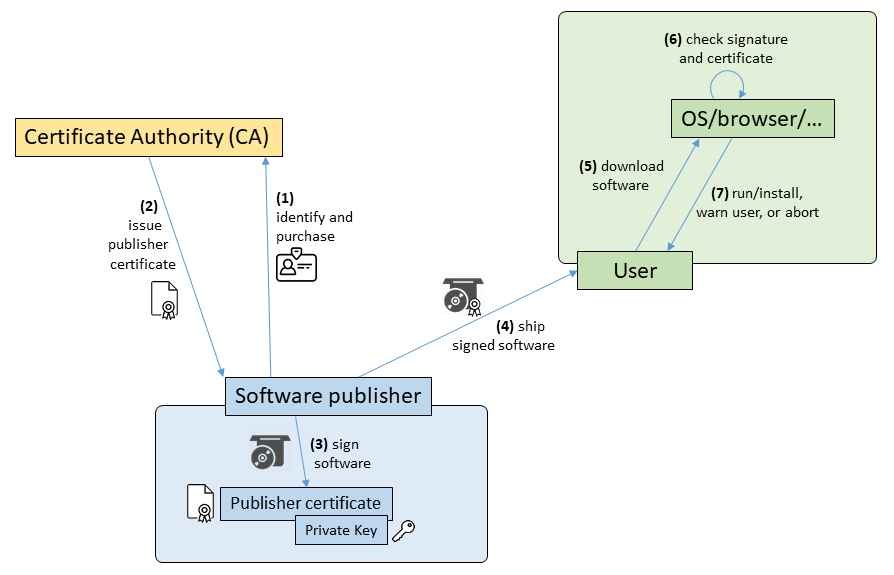 참조 : https://about.signpath.io/code-signing/theory/
한국은 한국전자 인증, 써트코리아  등에서   대행 업무를 하고 있습니다.
1. 준비사항
2.관련 툴 설치
https://developer.microsoft.com/ko-kr/windows/downloads/sdk-archive
MS (signtool.exe)
Microsoft SDK가 포함된 패키지의 다운로드링크입니다.
Windows 7
https://www.microsoft.com/en-us/download/details.aspx?id=8279
Windows 8.1
https://dev.windows.com/ko-kr/downloads/windows-8-1-sdk
windows 10
https://dev.windows.com/en-us/downloads/windows-10-sdk
Signtool.exe 옵션 설명 링크
http://msdn.microsoft.com/en-us/library/windows/desktop/jj835835(v=vs.85).aspx
java (jarsigner)
http://www.oracle.com/technetwork/java/javase/downloads/jdk8-downloads-2133151.html